Brian Kelly's confirmation that
Gunner Kiel is departing
South Bend raises a disconcerting issue for the Irish: early departures from Notre Dame's QB slot, or the campus altogether, are far from an anomaly but are now a regularity.
"Of the 22 scholarship quarterbacks who have matriculated to ND since the end of the coach Lou Holtz Era, starting with Zak Kustok in 1997, only two have finished their careers as Notre Dame quarterbacks with no eligibility remaining.
"Brady Quinn and [Evan] Sharpley are those two."
We thought it was time to look back on those 22 quarterbacks; a drop back into history that many Irish fans won't enjoy.
Zak Kustok
- transferred to Northwestern
New coach Bob Davie wanted to make the Irish an option-oriented team in 1998, a poor fit for this drop-back passer. After losing the starting job to Jarious Jackson in spring practice he fought his way out of South Bend, through the Cook County Circuit Court (to request immediate eligibility) and eventually into
Northwestern's starting role
where he was part of some very memorable games against Michigan (2000) and Michigan State (2001).
Arnaz Battle
- converted to wide receiver
After starting at quarterback for the 9-3 squad in 2000 he was converted to wide receiver. And thank goodness he did, hooking up with Pat Dillingham for this game winner in Spartan Stadium.
Gary Godsey
- converted to tight end
The highly recruited passer out of Florida transferred to tight end late in the 2000 campaign and played limited downs in the 2001 Fiesta Bowl. Godsey went on to become the starting tight end his senior season (2002).
Jared Clark
- converted to tight end
After seeing limited action his first two seasons at quarterback, Clark converted to tight end by 2002. By his senior season he finished fifth on the team in catches.
Abram Elam
- expelled
After a felony sexual battery conviction in 2002 got him expelled from Notre Dame, he eventually played one season at Kent State. Elam became an NFL nomad, playing safety for the Dolphins, Jets, Cowboys, Browns, Cowboys (again) and Chiefs. He's currently a free agent.
Carlyle Holiday
- converted to wide receiver
After staring at quarterback for three seasons (2001-2003), he broke the school's rushing record for 100 yard games in a season by a signal caller. However, Holiday was converted to a wide receiver and punt returner in 2003 with the arrival of Brady Quinn.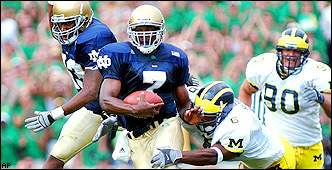 Matt LoVecchio
- transferred to Indiana
Ah, the true freshman who stepped in during the 2000 season and won his first seven games, averaging more than 400 yards of offense and 36 points per game.
On his very first series at quarterback,
LoVecchio took the Irish on an 89 yard touchdown drive,
outsmarting Stanford with a great run/pass mix.
But after getting throttled by Oregon State in the 2001 Fiesta Bowl and losing his first two games of the following season, he was benched for Holiday. With Ty Willingham's arrived in the spring of 2002, LoVecchio headed south, transferring to Indiana.
Chris Olsen
- transferred to Virginia
After backing up Holiday throughout the 2002 season he transferred to UVA in 2003, sitting out one season due to NCAA transfer rules.
Darrin Bragg
- converted to wide receiver
The Bellarmine College Prep star's career never took off as a quarterback. He converted to wide receiver his sophomore year.
David Wolke
- transferred to Western Kentucky
Part of Willingham's final recruiting class (2004),
Wolke joined six of his fellow classmates
in transferring after playing backup to Brady Quinn for two seasons.
Evan Sharpley
- graduated from ND / quarterback
In addition to joining Brady Quinn as the only two on this list who finished their careers as Notre Dame quarterbacks with no eligibility remaining, Sharpley holds another unique distinction: he's the only athlete in Notre Dame history to throw multiple touchdown passes and hit multiple home runs in the same academic year.
Zach Frazer
- transferred to Connecticut
Frazer was one of the nation's top recruits when he signed with the Irish in 2006. Scouts Inc. rated him as the No. 6 quarterback in the class, behind only Matthew Stafford, Mitch Mustain, Jevan Snead, Tim Tebow and Jake Locker. He was ranked ahead of Sam Bradford, Greg McElroy and Christian Ponder.
After sitting out his freshman year and being told he wouldn't start in the 2007 season, in favor of freshman Jimmy Clausen, Frazer transferred to UConn.
He returned in 2009
to lead the Huskies to a double OT win, ND's third consecutive loss in a season that would be Charlie Weis' last in South Bend.
Demetrius Jones
- transferred to Northern Illinois, Cincinnati and Central State University
Another heralded recruit from Chicago, Jones had size, speed and a rifle arm. He entered the 2007 season as Notre Dame's starting quarterback against Georgia Tech. In anticipation, he had a barber shave the ND logo into his scalp. But the game did not go the way he planned: Jones went 1-3 for four yards and lost two fumbles before being replaced by Jimmy Clausen.
The next week, Jones didn't make the team bus to Ann Arbor and eventually began his transfer tour of the Midwest, including a stop under Brian Kelly at Cincinnati (where he was dismissed from the team for academic reasons after two seasons).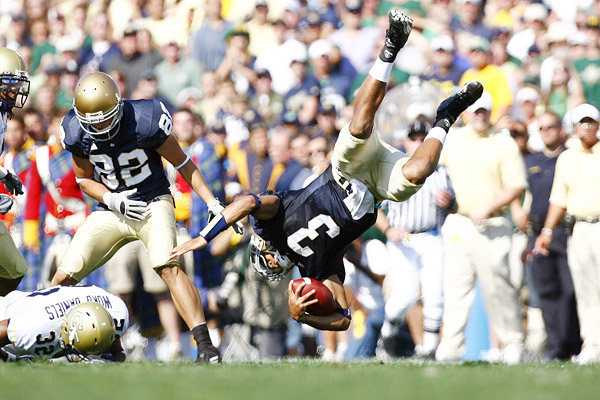 Jimmy Clausen
- left for NFL after junior year
Oh, Jimmy! Where do we begin? It's as if his Hummer limo entrance at the College Football Hall of Fame was the precipice of his sports career. He arrived from Westlake Village (CA) Oaks Christian with amazing numbers, having (this is not a typo) never lost a game while playing quarterback for the Lions (42-0).
While he never failed to put up Techmo Bowl-like numbers at Notre Dame - the
Hawaii Bowl
, at
Stanford in 2009
, etc - it wasn't the numbers that told the story of Jimmy in South Bend. He never brought the glory back to the Gold and Blue and when he left in 2009, after only three years at the helm, Clausen owned the school record for career losses for a starting quarterback.
Dayne Crist
- transferred to Kansas
With Clausen's departure and Brian Kelly's arrival, Crist entered the 2010 season as the Irish's starting signal caller before departing in the Tulsa game (don't bring it up - dark days...) with a knee injury. He returned in 2011 but after a first half meltdown against South Florida, including an end zone interception, was benched for much of the season. At the end of 2011 he
announced on Twitter
that he'd join Charlie Weis in Kansas.
Andrew Hendrix - current backup QB
A product of Moeller High School in Cincinnati, Hendrix has phenomenal running and passing talents. We saw flashes of this potential in the first game of his Notre Dame career, a 2011 outing against Air Force that featured a 78 yard run. After competing for the starting job in 2012, he saw limited action behind Everett Golson and Tommy Rees. Look for more Hendrix in 2013 as Kelly looks to spread the offense late in
the season
against Arizona State, Air Force and Navy.
Tommy Rees
- current backup QB
Good Times Tommy! Tommy's career at Notre Dame can pretty much be wrapped up with one fact: he doesn't even have the mobility to outrun
the South Bend Police
. Combine this with a few errant throws and it's easy to forget the late game heroics (2012 against Purdue and Stanford) and 12-4 record as a starting quarterback.
Luke Massa
- converted to wide receiver
After not seeing any action his freshman year (2011), Massa converted to wide receiver last fall and played in only eight games.
Everett Golson
- current starting QB
What is there left to be said about this guy? After sitting his freshman year, we truly saw the development and maturation of a very good quarterback last year. His evolution from a forced interception against Michigan to a composed leader in Southern Cal can't be understated. But it's Notre Dame, and what's more important is what he does for his encore.
Gunner Kiel
- transferring
His on-again, off-again arrival to Notre Dame was confusing, exciting and exhausting. But did we ever expect the nation's top recruit - who might have a chance to play on Sundays - wear a red hat and hold a clip board for four years in South Bend?
Malik Zaire
- incoming recruit
Built in the mold of Golson, this southpaw is a four star dual threat who has all the skills to be a great protege. He runs a 4.5 40, threw for nearly 2,000 yards and ran for another 1,110+ his senior season, and has a 34.5 inch vertical leap. Expect big things, if the Irish can keep him around...