It shouldn't be a surprise to the Twitter haters of Tigers third base coach Tom Brookens that he's aggressive in sending runners to home.
After Jim Leyland announced Brookens would move to third - sending Gene Lamont to the newly-created position of 'Bench Coach' (where he
upheld our pre-season prediction
and didn't lose a pound) - the former 1984 World Champion told Bill Simonson of
The Huge Show
that he's "very aggressive ... I like to send guys if I think they've got a chance, and if we get some guys thrown out, so be it."
Despite the uproar on Twitter over Brookens' recent calls, this probably won't be the last green light he'll throw up late in the game as long as the odds remain in his favor.
We should all count our blessings that Tom Brookens is not an air traffic controller.
— michael stone (@stoney16) September 19, 2013
Which came on the heels of sports editors from
way
up in the UP...
Thank you, Tom Brookens. Sending the fat guy 270 feet to score on a marginal double in the corner was a fantastic idea. Moron.
— Brandon Veale (@redveale) September 15, 2013
to Toledo...
Poor decision by Tom Brookens as 3B coach. Period. That was a Gene Lamont move. #Tigers
— B. Chap Sports (@bchapsports) September 15, 2013
to Jacksonville...
I feel like Tom Brookens just ripped my heart out and Prince Fielder stomped on it.
— Melissa Heyboer (@MelissaHeyboer) September 15, 2013
... all but calling for Brookens' head after Fielder was thrown out to end
Saturday's night pitching duel
.
And while
Al Beaton is right
, that "Lamont's final legacy as 3rd base coach is an unfortunate one -- Prince Fielder being thrown out at the plate in game 2 of the World Series, a huge play in a 2-0 Tigers loss," I have to pull a Reagan-esque question and ask: "Are we better off now than we were a year ago?"
Wouldn't a city that fought like hell to get casinos prefer a gambler who plays the odds at third base, over big, slow Gene making arbitrary guesstimates late in key games?
To look at the odds,
Jeff Morford over at Baseball and Not Baseball
broke down a similar play in 2011 when Jhonny Peralta was running from first (though there were no outs) on a double. He gets sent 92% of the time in that situation.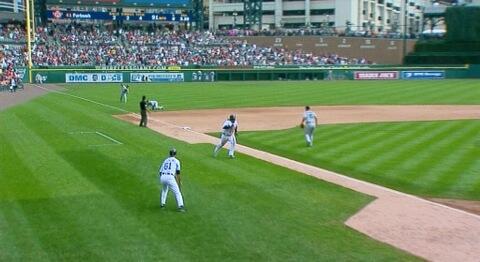 I'll save you the calculations and get right to the chart. In short, Bookens, in addition to hustling down the light to spot the angle and timing of the Mariners' relay (something we NEVER saw from Gene), played the odds correct: a double with the runner on first and one out should be sent 80% of the time.